This was an encouraging week in the fight against COVID-19. The CDC announced that they are no longer recommending that fully vaccinated people need to wear masks – whether inside or outside – except where required by federal, state, local, tribal, or territorial laws, rules, and regulations, including local business and workplace guidance. Although the CDC made this recommendation, it's critical that LA County residents adhere to local guidance to keep our community safe. Los Angeles County is currently reviewing the new recommendations in order to make adjustments to its public health guidance. In the interim, please note that fully vaccinated people do not need to wear a mask when indoors around other fully vaccinated people, or outside in uncrowded areas. For more information from LA Public Health, please click here.

Los Angeles County is making great progress in administering the COVID-19 vaccine. If we continue with our increased vaccination rate, the county could reach herd immunity by mid- to late July. However, this will only happen if people continue to get vaccinated. If you haven't already, please get vaccinated to help our community recover. Also, please encourage the people you know to get the vaccine. The more people vaccinated, the faster we can get back to normal.

More great news! Everyone age 12 and older is eligible to receive the COVID-19 vaccine in LA County. Children ages 12-17 are only eligible to receive the Pfizer vaccine. If you have children of these ages in your household, please help them sign up for a vaccine. The Los Angeles County Department of Public Health is also holding a Vaccine Virtual Town Hall for parents who have questions about vaccinating children. To submit your question, please click here. The virtual town hall will be held on Tuesday, May 18th at 6 p.m on Twitter, YouTube, and Facebook at @lapublichealth.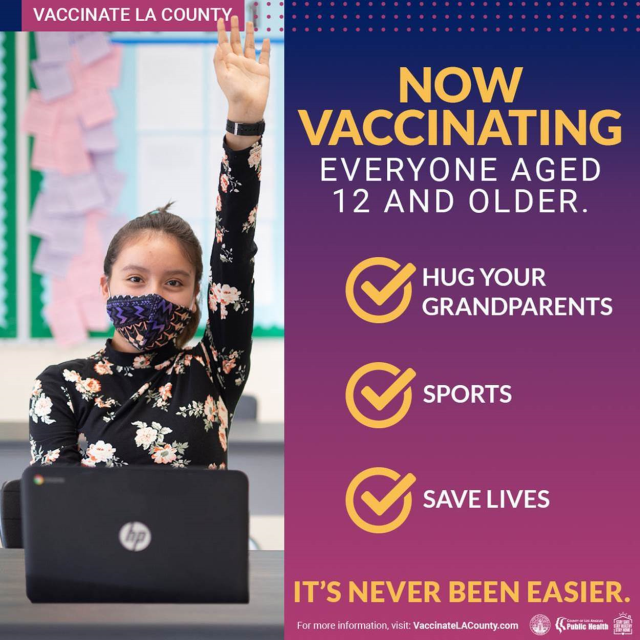 While we get shots in arms, the American Rescue Plan is providing much-needed financial relief to American families and businesses. Thanks to this comprehensive stimulus and relief package, eligible American families will receive up to $300/month, per child as part of the advanced monthly Child Tax Credit payments. If you haven't already filed your 2020 tax return, please make sure to do so before Monday, May 17th to ensure your family starts getting payments as soon as possible. This relief could benefit the families of 7.8 million children in California, helping lift 553,000 children out of poverty.
 
HELP IS HERE for California
The American Rescue Plan provides a total of $350 billion in emergency state and local funding to help communities across the United States recover. I'm pleased that the state of California will receive $43 billion to support healthy communities, struggling businesses, hard-hit families, and frontline workers. More locally, Los Angeles County will receive a total of $1,949,978,847 to support COVID response and relief efforts. 

In addition, Governor Newsom unveiled this week the California Comeback Plan, a $100 billion comprehensive economic recovery plan to help the state emerge from the COVID-19 crisis. The plan provides Golden State Stimulus Checks of at least $600 for two-thirds of Californians and billions for rental relief and to cover overdue water and electricity bills. The package also invests in tackling homelessness with $12 billion to create 46,000 new housing units and expand key programs like Project Homekey – seeking to end family homelessness within 5 years. I applaud Governor Newsom for prioritizing solutions to homelessness in the CA Comeback plan and for this comprehensive approach to helping Californians build back stronger than before.  
Get Vaccinated!
Los Angeles County has now administered over 8.6 million doses of the COVID-19 vaccine. Please view the information below to see what percentage of your community has received at least one dose of the vaccine. Help your community get to 100% by getting vaccinated and encouraging others to do the same.

Everyone age 12 and older who lives or works in LA County is eligible to receive the COVID-19 vaccine. Please check VaccinateLACounty.com for updated information on walk-in vaccinations. You can also book an appointment for a vaccine ahead of time by going to VaccinateLACounty.com or Coronavirus.LACity.org/VaxAppointment.

If you have a disability or do not have access to the internet and need assistance making your vaccination appointment, you can contact the County's Call Center –– open from 8:00 a.m. to 8:30 p.m. –– at (833) 540-0473. The vaccine is free to all people and immigration status and insurance are not required. 

NEW: You can text your ZIP code to 438829 (GETVAX) in English or 822862 (VACUNA) in Spanish to receive 3 locations near you with available vaccines, as well as contact information for those sites. If you'd rather go online, you can visit Vaccines.gov to find available vaccines near you. If you'd like to get this information over the phone, you can call the National COVID-19 Vaccination Assistance Hotline at 1 (800) 232-0233. 
Additional Resources
• Do you need help getting to a vaccination site? Please call the Department of Public Health Vaccine Call Center at 833-540-0473 for assistance.In addition to gaining protection against COVID-19, you could receive special deals at grocery stores, sports games, and more by getting your vaccine.
• Please click here to learn about some of the incentives businesses are offering to make it easier and more fun to get vaccinated.
• Discrimination and harassment stemming from fears surrounding COVID-19 in schools is wrong and must be stopped. This kind of treatment can have devastating effects on students and their families. Please click here for a resource for families and actions you can take if you believe a student has been treated unfairly.
• If you are out of work or have had your hours reduced, you may be eligible for unemployment benefits. For questions about unemployment insurance, please go to edd.ca.gov or contact your state legislator for assistance.
• To check on the status of your stimulus check, please visit irs.gov/coronavirus/get-my-payment.
• Covered California opened a new special enrollment period to allow Californians to benefit from lower health insurance premiums available through the American Rescue Plan. Click here to enroll in health care coverage.
• For CDC guidance on travel for fully vaccinated people, please click here. If you plan to travel, please remember to renew your passport at least 6 months in advance.
• The West LA VA is now offering walk-in vaccinations veterans of ALL ages and their spouses or caregivers. Please call (310) 268-4900 for information about walk-in times and locations.  
• For updated data on COVID-19 cases and hospitalizations in California and LA County, please go to update.covid19.ca.gov and publichealth.lacounty.gov.CDC's guidance for coping with stress and anxiety during a pandemic.
• If you need someone to talk to, please call the LA County Department of Mental Health hotline at (800) 854-7771 or text "LA" to 741741.
• Opt-in to receive notifications if you've been exposed to someone with COVID-19.If you are in need of food assistance; housing relief; information about COVID-19; and more, please call 2-1-1 or visit 211la.org.
• Learn about vaccine misinformation and how to avoid vaccine scams.How COVID-19 vaccines work (CDC).For additional updates on vaccines and COVID-19, please follow me on Facebook, Twitter and Instagram.
I look forward to updating you again soon. Stay safe. 

Sincerely, 

Ted W. Lieu  
Member of Congress
Washington, DC
403 Cannon HOB
Washington, DC 20515
Phone: (202) 225-3976
Los Angeles Office
1645 Corinth Ave., Suite 101
Los Angeles, CA 90025
Phone: (323) 651-1040
Manhattan Beach Office
1600 Rosecrans Ave., 4th Floor
Manhattan Beach, CA 90266
Phone: (310) 321-7664